Real Estate Searches in Paraguay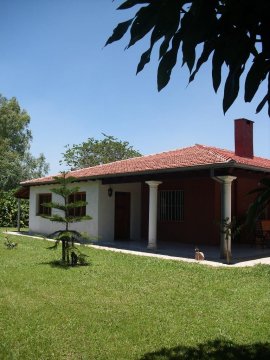 We are regularly looking for new real estate offers for our prospective customers mainly in the department Guairá (Villarrica, Mbocayaty, Yataity, Colonia Independencia and other places), which would like to settle in this area.

Mainly we are looking for well-built houses for these interested parties and also for suitable plots of land, which are suitable for the construction of houses (also with swimming pool) from approx. 1 hectare to 50 hectares.

If you are the owner of a plot of land (also with a house) and would like to sell or if you know someone who is willing to sell his plot of land/house, please contact us.
The properties should have the following characteristics:
with title (unencumbered)
good opportunity to build your own home
near or short range and good access road to asphalt
located as high as possible (no wetlands)
if possible with trees and also different fruit trees
nutritious and not too dry soil for growing vegetables
meadow or pasture for animal husbandry
As a seller or property owner you have no costs. Our principle is always the proper sale or purchase through a public notary's office (Escribania Publica) with a certified translator present. Negotiating partners about conditions and price of the negotiation or purchase object are always seller and interested party, whereby we charge the buyer 5% of the actual total sales price as our commission. Commission sharing of buyer and seller and the like are possible after agreement with all parties.
There are often discrepancies in the costs of the notary's office (Escribania). Therefore, we always suggest that everyone has to pay their own costs that fall to you. Also this should be clarified exactly before each sale. Thus, at least the sales fees or sales taxes fall to the seller (1.5% of the sales price - since January 2020 increased to 2.4%).